Lucas Style Push-on Terminal 3/16" (10)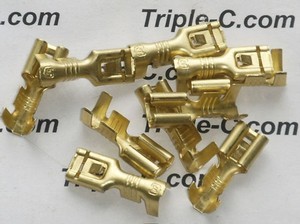 Currently out of stock - check back soon.
Description:
Lucas Style 4.8mm (3/16") Push-on Terminals x 10
For 1.00-2.50 sq mm cable
Replace your old rusted or loose connectors before they let you down with one of our new replacements.
Its well known that the most common reason for breakdowns on the road are electrical.
Sold in packs of ten connectors. Click on image to see larger version.
Also see the matching clear insulators sold separately.