Original Wilmot Breeden Keys
Wouldn't you like an original key for your car - perhaps we can help ...
When your car was new there is a good chance that the it came with keys manufactured by Wilmot Breeden Ltd., (Union) Lowe & Fletcher (LF) or Neiman.
Over the last few years we have been building up a stock of pre-cut Wilmot Breeden (aka Union keys) ready to offer the British car enthusiast. When ever possible we have found new keys but for some, the stock can be 30-50 years old and the finish will have acquired an aged and oxidized patina.
Note Wilmot Breeden closed there doors in 1984 the company was spit into two divisions with the lock/key buisness being purchased by WBH as part of a managment buy-out.

For reference we have photographed and categorized the condition of the keys we carry see photograph below. Number represents condition not head style.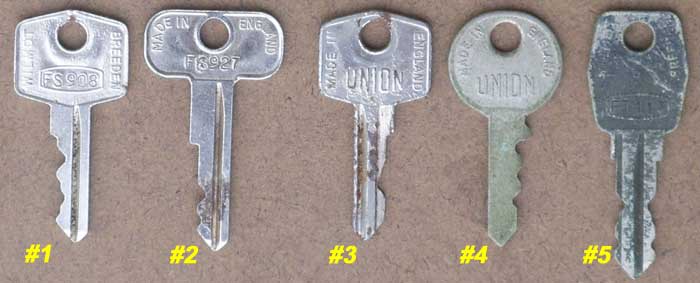 In as close to new condition as possible - remembering these are car keys and not jewelry, surface scratches are part and parcel for even the newest key.
Some loss of chrome finish leaving behind bare base metal.
More loss of chrome finish and slight age oxidization
Age oxidization to majority of key
Dark or black with age
Keys we currently offer are only in the following keyways and coding must be between those noted.
FNR (Early Jaguar) - FNR1-FNR25
MRN - typically early MG T-Series - MRN1-MRN54
FA - MG TD and TF, Jaguar, Austin-Healey and more - FA1-25, FA501-FA625
FP - Austin-Healey, early Mini, MGA, early MGB, Triumph TR2,3 - FP626-FP750
FS Austin-Healey,MGB, Mini, Triumph TR3A and later plus many others - FS001-FS099 and FS876 to FS955
FT - Triumph, MGB Glove box and many others - FT101 to FT225
Send us an email using the form below and we will get back to you with the type of head round (#4), square (correctly called Polybow)(#1), rectangular (#2) - condition and cost of keys if any we have in your required code.
If you want a particular head style please make that obvious so as to save us time when looking for your key.
Prices run from $10 for a key that has an oxidized finish to $20/$30 for brand new condition keys.
Expect a reply within 1-2 business days.
Need help finding your cars key code perhaps this page may help.How to find your cars key code...