Badge Bar Clip 1 Inch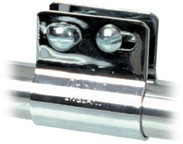 Description:
For 1" diameter bars
Chrome plated badge bar clip complete with screws and "Desmo" script.
Please note that most badge bars are 3/4" - typical nudge bars are 1" please check before ordering.
We recommend that a strip of electrical tape is wound around your bar before attaching this highly chromed clip to stop slippage.