The MGB is 60 years old in 2022. Celebrate this anniversary with one of our grille and lapel pin sets. Grille badge is 3" diameter hand finished with mounting hardware for grille (two studs, washers and wing nuts) - lapel pin matches and is 1" diameter. Both in presentation box.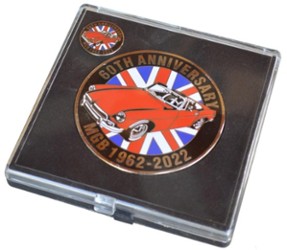 Please note we are closed till sept 23rd to attend the British Invasion in Stowe VT. If your going we look forward to seeing you.
British Leyland logo keys for MG, Triumph and Jaguar now only $9.95 each.

Hi and welcome to our web site. Triple-C has been the leader in classic British and European auto accessories for over 30 years. We search the world looking for interesting and unique car accessories to offer so come inside and take a look. Like to talk our phone number is 1-480-361-2529 m/f 10-4 MST (Arizona has no daylight savings time adjustment)
Just added re-run of MGB Limited Edition license plates, authentic looking embossed aluminum Rally Monte Carlo plate. Recently back from the UK with the last of the old original Wilmot Breeden key stock. Call to check we can now supply original NOS keys in the following keyways - Most MRN, FA, FP, FS and FT.
Attention MGA and TR2/3 and other owners original new old stock FP ignition barrels with or without original Wilmot Breeden keys - in the following bittings 642-646-648-652-654-656-658-672-674-677-679-681-683-687 and more... - Barrel only $24 with original Wilmot Breeden "Union" keys (2) $49.95. Here is your chance to change out a worn ignition barrel with one made in the same time period as your car.
Re-coding of Wilmot Breeden key cylinders - we're able to re-code any MRN, FA, FP, FS or FT lock that you have (you supply the barrel) and we'll replace wards and springs to any code you like within the existing locks range - call for details.
Lots of electrical connectors just added including 3/8" push on connectors and insulators, 1/4" flag style connectors and at last the correct 1-1/4" glass fuses (20, 35 and 40A) for your classic British car. See all our Lucas style connectors.
New Items recently added
If you are involved with a club that is holding an event this year - please have the appropriate person contact us through our events page to add your show/event. Thousands of potential visitors check our event page every year and it's free to advertise your show.
Look forward to hearing from you and don't forget to send in your car images for our Showcase Of Cars
Store your car the correct way - Let John Twist show you how...
Parts, Accessories and keys for British cars - specializing in New MINI Cooper, MINI Cooper S (BMW) classic Mini and British Sports Cars such as MG, MGB, MGA, TR3. TR4, TR6, TR7, TR8, Spitfire, Austin-Healey, Jaguar, TVR, Land Rover, Sunbeam, Sprite, Morris Minor, Morgan etc.